Whatever Danielle Wants, Danielle Gets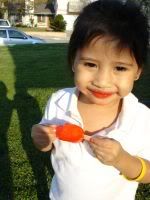 I ♥
It's the eve of my one and only daughter's birthday. She's turning three tomorrow and all she wants is "a pink balloon and a pink cake". We rented a pink princess castle moon bouncer as a surprise. Not a really big party though, just a simple celebration with relatives, and about three kids.

But the weather's not getting any better. For the past week it was fine until today and unfortunately tomorrow. Forecast shows some showers in the morning and afternoon. Sigh...so much for a perfect birthday party. It's all good, there's always next time. The look on her face when she sees the huge jumper on the backyard would have been priceless.
Sorry honey...mommy can't guarantee a sunny, warm weather on your birthday.